Kitchen Remodeling Tips
If you're eager to transform your Kitchen into a beautiful and highly functional space, there are some remodeling tips that Muncie, Indiana remodelers Property Pros recommend. Whether you're a homeowner looking to improve your living space, a passionate DIY enthusiast, or a professional contractor, these tips will help you achieve outstanding results. So, let's dive right in and discover some secrets to creating your dream kitchen.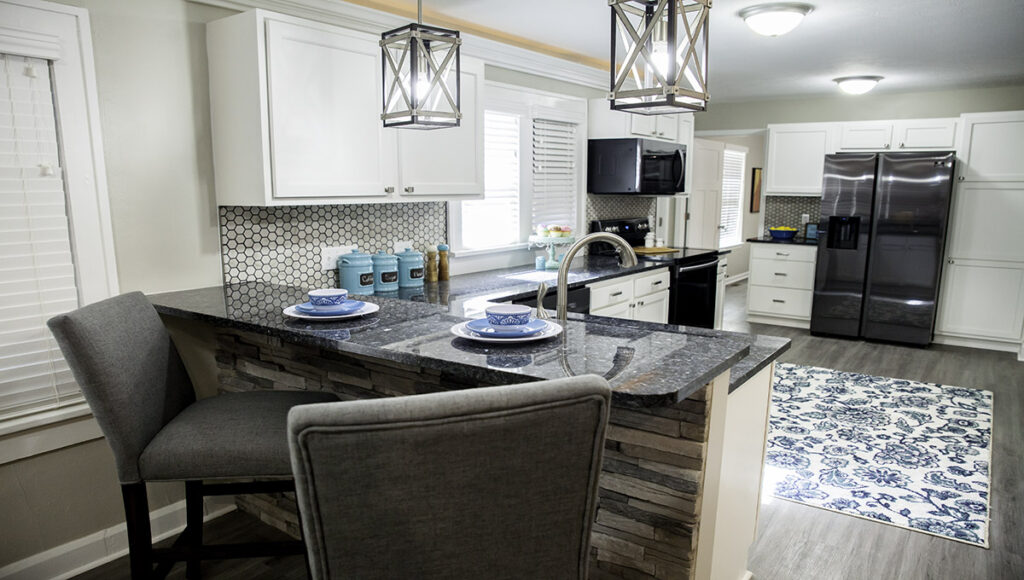 1. Planning Your Kitchen Remodel
Before diving into the exciting process of remodeling your kitchen, it's crucial to have a solid plan in place. Planning sets the foundation for a successful project. Here are some key considerations to keep in mind:
● Assess Your Needs and Goals: Evaluate your current kitchen and identify its shortcomings. Determine your goals for the remodel, such as improving aesthetics, storage, efficiency, or workflow. These will guide your design.
● Set a Realistic Budget: Establish a budget by researching the average costs of materials, appliances, labor, and additional expenses. Allocate a contingency fund for unexpected surprises such as discovering rot underneath floorboards.
● Hire a Professional, Go DIY, or a mixture of both? Consider your abilities, available time, and project complexity before deciding whether to hire a professional or tackle the project yourself. At Property Pros, we can help you understand where a skilled professional is best and where you can save in some ways by doing certain things yourself.
2. Designing Your Dream Kitchen
Once you have a plan in place, it's time to move on to the exciting design phase. Designing your dream kitchen involves creating a space that seamlessly blends functionality and visual appeal. Here are some tips to help you achieve that:
● Maximize Functionality: Incorporate the work triangle concept or work zones to ensure a smooth workflow in your kitchen. Optimize the layout, spacing, and traffic flow to create an efficient cooking space.
● Choose Quality Materials: Invest in high-quality materials for durability. Fortunately, with a wide array of quality products, you will not have to sacrifice aesthetics for function. Select cabinets, countertops, flooring, and other elements that suit your taste but can take the wear and tear of daily use. You want cabinets that solve storage problems, countertops that are heat-resistant and hard-wearing, and flooring that is durable and easy to clean.
● Lighting: Think about embracing natural light by incorporating windows and skylights to bring in natural light. This creates a welcoming atmosphere and makes your kitchen appear more spacious. Also, choose lighting throughout that serves a necessary function like bright light over cooking and preparation areas, while stylish fixtures over dining areas can lend elegance to the kitchen and set a softer tone for eating and entertaining.
3. Essential Kitchen Features and Appliances
As you move forward with your kitchen remodeling project, there are certain features and appliances that can greatly enhance your overall cooking experience. Here are a few to consider:
● Energy-Efficient Appliances: Look for appliances with the ENERGY STAR label to reduce utility bills and minimize environmental impact.
● Smart Home Integration: Incorporate voice-activated assistants, smart appliances, and lighting systems for convenience and efficiency in your daily routine.
● Ample Storage Solutions: Maximize storage space with cabinets, drawers, and innovative storage solutions. Declutter your kitchen and make it more efficient to use.
Appliances can be costly so look for bundles where you get a refrigerator, stove, cooktop, and microwave for cost savings. Ask Property Pros for recommendations if you are not sure what to choose.
4. Hiring the Right Professionals
If you decide to hire professionals for your kitchen remodeling project, it's essential to choose the right team. If you are considering a kitchen remodeling project, discuss it with professional remodelers like Property Pros to learn about their company and experience.
Here are some factors to consider:
● Research and Gather Recommendations: Research local contractors, read reviews, and ask for recommendations from friends or family.
● Verify Credentials and Licenses: Ensure the professionals are licensed and insured. Check their credentials, certifications, and industry affiliations.
● Request References and Past Work Samples: Contact previous clients for references and ask for samples of past kitchen remodeling projects to assess their work quality and design style.
Consider Property Pros for your Kitchen Remodel
Discover our expert home remodeling services! We can transform your kitchen into the dream space you've always wanted! Proper planning, thoughtful design, and attention to detail are key to achieving your dream kitchen. We make sure to stay within your budget and prioritize functionality and quality. Together with careful consideration of your needs, goals, and available resources, we can transform your kitchen into a stunning and highly functional space. Happy remodeling!
For more kitchen remodeling tips or to learn about our other remodeling services, give us a call. We look forward to hearing about your Kitchen Remodeling ideas! Contact us by calling (765)-400-PROS here in Muncie or filling out our online form.