Muncie Remodelers Help Kitchen Remodels Pay Off
As top Muncie Remodelers, we know that transforming kitchens into dream spaces can get homeowners thinking if the investment in a newly designed kitchen will be worth it. We are often asked "will I recoup the expense of my kitchen remodel when I sell." The good news is that you will recoup some of that and let us share why.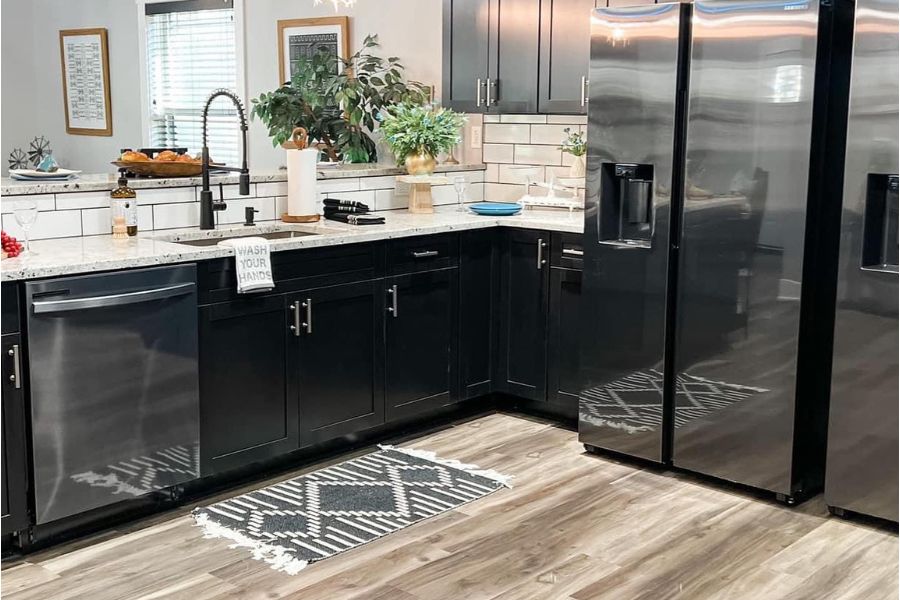 First off, according to Realtor.com, kitchen space is one of the most important items for potential home buyers. A modern, eye-catching, efficient kitchen is a big selling point. So, when you create your dream kitchen, if recouping your expenditure is important to you, we can help you design your remodel with that concern in mind.
To get started schedule a free consultation with your top Muncie remodelers, Property Pros, and let's talk about remodeling your kitchen!
Reasons to Remodel Your Kitchen
People choose kitchen remodeling for a variety of reasons. Some folks simply cannot stand their outdated kitchen one minute longer. Others need more space as their needs have grown. Still, others have been putting it off until they're financially ready. Or in this instance, you may choose to remodel your kitchen to improve the value of your house for future selling. Ultimately the most important reason is yours.
Remodeling your kitchen can bring a wide range of benefits to your home and your life immediately upon completion. A well-designed kitchen can improve the functionality of your space, making it easier and more enjoyable to cook, entertain, and spend time with family and friends. With energy-saving appliances, energy-efficient windows, and up-to-date electric and plumbing, you can see financial savings in utility bills.
Without a doubt, a kitchen remodel also adds value to your home. Upgrading your appliances, countertops, flooring, and cabinets can increase the sale price of your property and make it more attractive to potential buyers. A new floor design that either removes or adds walls improves the flow of the kitchen workspace and your home.
At Property Pros, we can work with you to transform your kitchen into a space that reflects your style and meets your needs. An important part of that is to create a budget in alignment with what you realistically can recoup upon selling.
How Much Does a Kitchen Remodel Cost?
Remodeling Magazine's 2022 Cost vs. Value Report says "The average cost to renovate a 200-square-foot kitchen with wood cabinets, an island, laminate countertops, and a standard double sink and faucet is slightly over $80,000. That price includes an energy-efficient range, vented range hood, built-in microwave, dishwasher, garbage disposal, custom lighting, resilient flooring, and painting of walls, trim, and ceiling." They further estimate the value as about $45,000 when you sell. Although it would be nice to see getting 100% of your investment back on the sale of the house, it may not be realistic.
The value of kitchen remodels can vary greatly depending on several factors. In part there is depreciation. As you use your kitchen, over time there is some wear and tear and depreciation will occur because of it.
You can improve the value if you choose certain kitchen elements, such as an island or type of flooring, that are sought after by homebuyers. Talk with local realtors to get a sense of what are "kitchen must-haves" that their clients in the Muncie area look for.
High-end materials and high-priced state-of-the-art appliances may be what you want in your kitchen and that is okay. But again, be realistic about the return on these types of upgrades. For example, granite countertops and custom cabinetry will cost more than budget-friendly options like laminate countertops and stock cabinets. A top-of-the-line Viking, Wolf, Dacor, or Thermador range will run $4000 as compared to a more basic brand like Whirlpool at $700. But if it is not what you want, then assuming it is in your budget, get what you want. Just understand that it may not be a fully recoverable expenditure.
Another big factor is the extent of the remodel. Are you planning an upgrade, or do you want to completely gut your kitchen and start from scratch, or something in between? Obviously, a full kitchen remodel will cost more than a minor update and though valuable there won't be a one to one dollar cost to resale exchange.
We will help you consider these factors when you talk with our Property Pros design team. It's important to carefully plan your remodel and set a realistic budget to ensure that you get the most value for your money. You want to think about what is a "must-have" for you and where can you compromise and spend less money.
Finally, if you love your new kitchen and enjoy it every day, that is also "priceless." So, you do not want to devalue that intrinsic value when thinking about the return on investment.
Working with Property Pros – a leading Muncie remodeling company
When you partner with Property Pros, you aren't just opting for a kitchen remodel. You will be working with Muncie's Quest for the Best Winner for Home Remodeler! Our expertise allows us to harmonize aesthetic appeal with functionality, with an eye on budget and investment.
A remodel with Property Pros isn't just about boosting your home's resale value. It's an investment in a richer, more rewarding home life. Together let's see what we can design together. Contact Property Pros today by calling us at 765-400-PROS or send us a message and tell us about your project.