Top Must-Haves for Remodeling Your Kitchen
Making the decision to remodel your kitchen is huge and usually comes after months or even years of frustration working in a kitchen that simply does not work for you and your lifestyle. Your kitchen remodel should result in a kitchen that is both functional and stylish.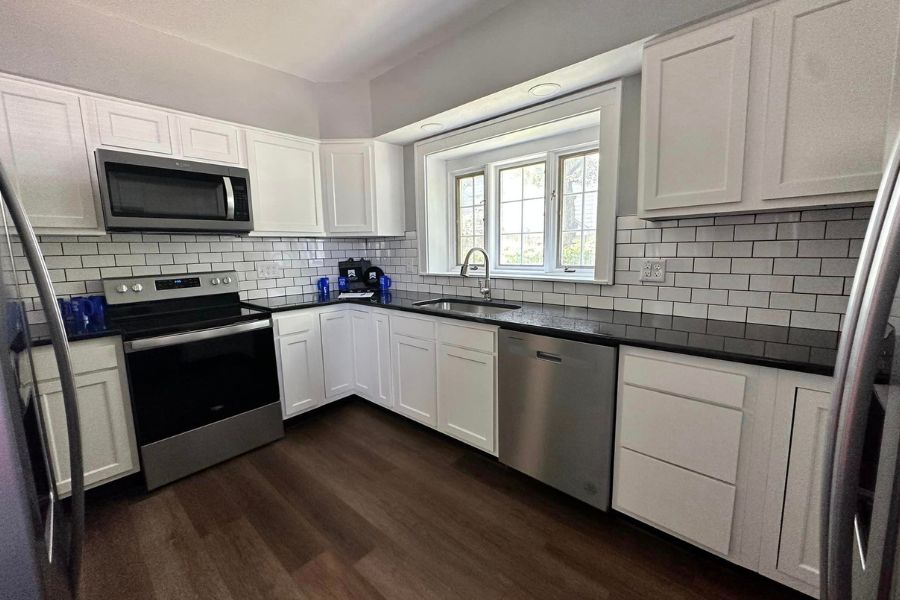 When it comes to remodeling a kitchen, there are certain must-haves that every homeowner should consider including in their planning. Here are some of our recommendations for must-haves for remodeling your kitchen. Property Pros is a leading remodeling company out of Muncie, Indiana.
Flooring
When it comes to kitchen flooring, it's important to choose something that's durable, easy to clean, and slip-resistant. Consider porcelain tile, which is very hard and durable – the perfect tiles for a kitchen – and comes in a variety of colors and patterns. Or perhaps consider hardwood flooring, which adds warmth and character to any kitchen.
Also, according to flooring supplier, All American Flooring, "Innovations have brought many possibilities in the flooring industry, including various hardwood look-alike floors. Some of the alternatives are not only low-cost, but they also have other features that real hardwood floors don't have, for example, waterproof."
It is worth considering vinyl flooring as a choice as well as it' is tough, easy to clean, and can mimic the look of other flooring types such as hardwood with look-alike vinyl planks or ceramic tile with the use of luxury vinyl tile flooring.
Countertops
Countertops are one of the most important features of any kitchen as they are the most frequently used surface. Quartz countertops are also a great option as they are non-porous, scratch-resistant, and require minimal maintenance. Granite countertops are still a popular choice for their durability and heat resistance properties. For a more budget-friendly option, laminate countertops are durable, easy to clean, and come in a variety of colors and patterns to fit your aesthetic.
Lighting
Proper lighting is crucial in any kitchen as it ensures that you can see what you're doing while cooking or doing other kitchen tasks. Lighting can also set the ambiance. Lighting that can be modulated with dimmer switches that can control the level of brightness. Other options:
• Pendant lights are often a popular choice as they add style and can be used to create a focal point.
• Under-cabinet lighting provides task lighting and makes it easier to see what you're doing on the countertops.
• Recessed lighting can provide general lighting to the entire kitchen, making it feel more welcoming.
Appliances
There are a few essential appliances that every kitchen must have.
• A refrigerator is an obvious must-have.
• A stove and oven are essential for cooking and baking.
• A microwave is a popular appliance that most homeowners depend on for heating up leftovers and making quick meals. You may want to consider a convection microwave combination appliance that lets you bake and roast foods in addition to heating them.
• A dishwasher is a timesaver and ensures that your dishes are cleaned properly.
Price will be a factor and depending on features and finishes, you will need to find appliances you can afford. Your remodeler may have suggestions as to the look of your appliance choice in terms of keeping with the aesthetics of your kitchen remodel. You may want to look for companies who sell appliances in bundled packages, for example from manufacturers like Whirlpool, GE, LG, and Samsung, with cost savings because of the bundling.
Get Started on Remodeling Your Kitchen in Muncie
Finding a top kitchen remodeling company in Muncie is easy. Property Pros has been recognized by Muncie's Quest for the Best two years in a row as Best Home Remodeler.
Our satisfied customers can also attest to the quality, workmanship, and positive remodeling experience they have received from Property Pros. We offer a positive start-to-finish client experience that includes good communication, adherence to budgeting, professionalism on site, and solid, quality handiwork every time. Call Property Pros at 765-400-PROS or message us online. We look forward to remodeling your kitchen.