The new deck is an exciting addition to your home and opens up a world of possibilities for relaxation, entertainment, and outdoor enjoyment. A new deck isn't just a physical extension; it's an opportunity to enhance your lifestyle and create memorable moments. Let's explore the many ways you can maximize the potential of your new deck.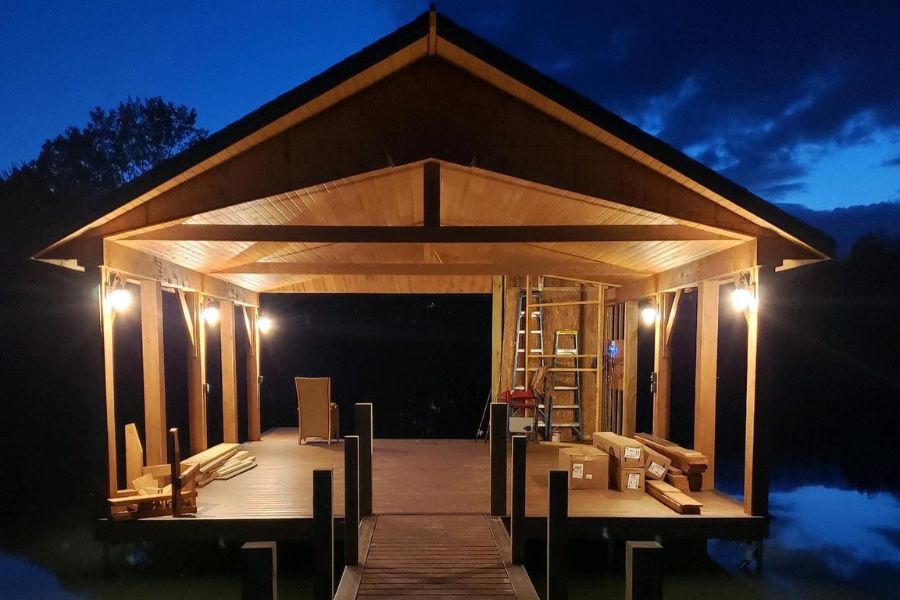 Furnishing and Decor
Your new deck is a blank canvas waiting to be transformed into your space. Furnish it with comfortable seating, stylish tables, and vibrant cushions to create an inviting outdoor living room. Accessorize with lanterns, potted plants, and decorative rugs to reflect your personal style. This space can extend your indoor aesthetics, seamlessly merging comfort and elegance.
Outdoor Dining Experience
One of the greatest pleasures of having a new deck is the ability to savor meals under the open sky. Set up a dining area with a sturdy table and chairs, and you'll gravitate towards outdoor meals. Whether it's a simple breakfast, a cozy family dinner, or a weekend barbecue, your deck provides the perfect backdrop for delightful culinary experiences.
Relaxation and Entertainment
Transform your deck into a haven of relaxation. Lounge chairs, hammocks, and cozy daybeds invite you to unwind, read a book, or take a rejuvenating nap. For those who love entertainment, consider installing an outdoor TV or projector screen for movie nights or watching the big game. Your new deck is ideal for creating memories with friends and family.
Greenery and Gardening
Bring the beauty of nature to your deck with potted plants, flower boxes, and hanging gardens. Even if you have limited space, vertical gardening can add a touch of greenery. Grow herbs, colorful flowers, or even miniature shrubs to create a refreshing atmosphere. Combining wood, plants, and fresh air fosters a sense of tranquility and connection to nature.
Privacy and Shelter
Enhance your new deck with elements that offer both privacy and protection. Install trellises, lattice panels, or outdoor curtains to create a sense of seclusion without sacrificing openness. Adding a pergola or awning provides shade during sunny days and shelter during unexpected rain showers, allowing you to enjoy your deck regardless of the weather.
Maximizing Enjoyment With Your New Deck
Enjoying a deck is about relishing the outdoor ambiance and scenic views. It's a space for relaxation, barbecues, or social gatherings. The fresh air and tranquility elevate one's mood, and it's a perfect spot for morning coffees or sunset viewings. The deck becomes a cherished space for bonding, introspection, and rejuvenation. To truly enjoy your new deck, remember these key points:
Personalize: Infuse your style into the deck's design and decor.
Dine Outdoors: Create an inviting dining space for meals under the sky.
Relax and Entertain: Craft a comfortable and entertaining atmosphere.
Go Green: Incorporate plants for a refreshing ambiance.
Ensure Privacy: Add elements that offer both seclusion and shelter.
Property Pros: Your Expert New Deck Builders
Property Pros excels in transforming dreams into tangible realities. Our team comprises skilled professionals committed to designing new decks tailored to your unique lifestyle and tastes. Rely on our expertise and meticulous approach to ensure that the deck we deliver not only meets but surpasses your expectations.
Ready to turn your dreams into reality? Contact us at 765-400-PROS in Muncie, or simply fill out our online form to share your project details. Whatever your construction project, share it with us. From home remodeling, new construction or a new outdoor addition, we have the expertise and commitment to get the job done. Get ready to elevate your outdoor living experience!